Zojirushi Bread Machine
BBCCX20 Home Bakery Supreme Bread Machine

This Zojirushi bread machine is probably the best available to the home bread maker. Unlike most other bread machines, it comes with twin mixing blades for improved kneading of the dough, which ultimately gives the bread a better flavour. Zojirushi bread machines also produces a more traditionally shaped two pound loaf; long and narrow rather than tall and thin like most bread machines. This makes the finished loaf look better as well as making it much easier to slice. In addition to bread you can also make cakes, fruit jam and even meatloaf. When making bread you can choose to make just the dough, shaping and finishing the bread by hand then baking in the oven, or let the machine do the whole job from start to finish.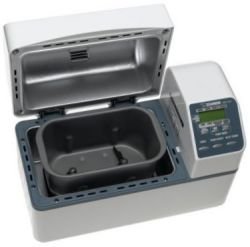 A timer enables you to set up the machine to run up to 13 hours ahead, meaning you can wake up to freshly baked bread, or come home to a delicious loaf after a day out at work. If you're in a hurry, there's a 2-hour quick loaf setting. A viewing window ensures that you can keep a check on the bread as it mixes and cooks, and there are three crust settings so that you can choose a dark, medium or light finish for your loaf.
Whenever you make bread with the Zojirushi bread machine, the temperature is fully controlled from the start. This means that it doesn't matter what the temperature is in your kitchen, the loaf will still turn out perfectly as the ingredients are preheated to reach the perfect temperature automatically.
Zojirushi Bread Machine Features
Instruction video
Recipe book
Gluten-free recipes
Sourdough starter cycle
Large viewing window
13-hour prorammable timer
Quick bake cycle
Make jam, cake, meatloaf and even lasagne
Memory function to store your favourite settings